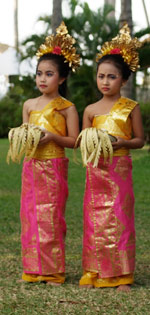 Absolutely dedicated to Balinese healing, rejuvenation, wellness and spirituality, this quiet retreat seeks to not only restore body and mind, but also to replenish the spirit through a range of programs that allow guests to embark upon a personal restorative journey of their choosing.

When guests arrive at the resort they are invited to select a Discovery Path based on an analysis of their needs; choosing from either Balance, Creativity, or Vigour; with each of these paths offering a combined range of tailored treatments and activities designed to restore equilibrium to bodies and spirits that have been depleted through the pressures of everyday living.

Guests who wish to learn or improve their personal skills in the arts of Balinese massage can choose to join the Spa Village Academy, and undergo private training with a group of skilled therapists who will transfer the wisdom of this ancient practice through a series of training sessions.