HERBAL REJUVENATION 100 minutes
Plants have been used in Bali for generations both internally and externally to support the natural healing process. This refreshing experience begins with a fragrant combination of fresh basil, mint, neem, and lime to exfoliate and soften the skin. Enjoy a relaxing scalp and facial massage while cocooned in a potent herbal body mask. Tired muscles are invigorated with a rhythmic full body massage utilising Spa Village's signature masculine or feminine herbal oils to improve circulation, and enliven the senses.
CHOCOLATE AND COFFEE INDULGENCE 100 minutes
While the delicious aroma and flavour of chocolate and coffee are well known, their healing properties are often overlooked. High in antioxidants, cacao, the raw fruit of chocolate, protects and nourishes the skin while coffee assists in microcirculation and provides astringency that evens skin tone. This treatment begins with a body scrub of crushed coffee and cacao beans, followed by a rich and moisturising mask of fresh cacao fruit and aloe vera, concluding with a soothing cacao butter, vanilla bean and coconut oil massage. These deliciously aromatic and nourishing oils are readily absorbed, healing damaged and dry skin and providing radiance and luster.
INTARAN FOOT TREATMENT 50 minutes
The superb anti-bacterial and skin rejuvenating qualities of aloe vera and intaran (neem leaf) come together to create a serene outdoor garden experience before the ocean that pampers, exfoliates and softens your feet. An invigorating foot scrub of dried jackfruit leaves follows a warm relaxing foot soak in neem leaf extract. Then, indulge in a fresh mint, neem leaf and aloe vera foot mask while enjoying a relaxing neck and shoulder massage. This treatment concludes with a therapeutic foot massage. The Intaran Foot Treatment improves your blood circulation and revitalises the feet, leaving it smooth, soft and truly pampered.
BALE: HEAVEN AND EARTH 25 minutes
Relax in a Bale, Balinese outdoor pavilions, with a spectacular ocean view while enjoying your choice of Spa Village's rejuvenating "Bale: Heaven and Earth" treatments:
The "Heaven" experience, which releases deep tension in the head, neck and shoulders while the fragrant aroma of the frangipani, the heavenly flower of the Balinese, delights the senses.
or
The "Earth" experience, rebalances our energy activating powerful reflex zones on the feet through traditional Balinese pressure point techniques and the use of smooth lava pebbles.

Body Treatments
PENGANTEN MELUKAT 100 minutes
Traditionally in the village three days before a wedding day, the bride and groom would be kept in their families' home and could not leave the premises. Their mothers would get them ready for their wedding by doing the Traditional Melukat (Body Cleansing).
The treatment begins with Mewangsul (Traditional Balinese Massage) followed by Meodak (Boreh Body Scrub). Then Empehan (Fresh Milk) would be applied to the skin, leaving it feeling soft and moisturized. The treatment ends with Mersiram Sekar (Floral Bath). This treatment is designed to purify and cleanse the body, mind and spirit.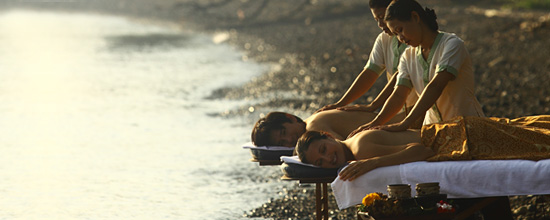 CAMPUR-CAMPUR 100 minutes
The name Campur-Campur means a blending of varieties in Malay. Combining the best techniques of Malay and Thai massage, our special creation uses touch, tone and aromatherapy to give you a memorable experience. During the treatment, the scent of lemon grass and pandan leaves fills the air as steamed herbs are pressed along the body using a traditional steam pouch.